Chiropractic Care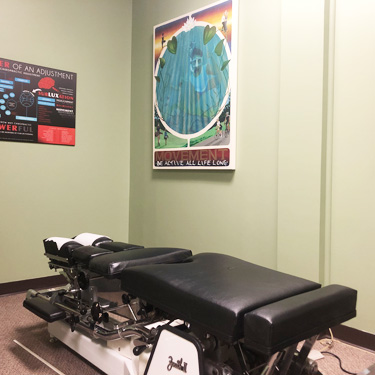 We're thrilled to offer patients a variety of adjustment styles in order to meet their unique and specific concerns. When you choose Barriefield Family Chiropractic Centre for your care, you can rest easy knowing that you'll be receiving exactly what your body needs—no more and no less.
The Thompson Drop Table
The primary technique used by Dr. Way is the Thompson Drop Table, a specialized table that allows the doctor to apply adjustments with a force that's made gentler by the table drop pieces. As the body begins to lower to the ground in the drop piece, the doctor simply moves the body into a better position by adjusting the vertebrae accordingly. This technique allows the doctor to correct subluxations in an effective but less severe manner.
Patients prepare for treatment by lying face down on the table and allowing the doctor to perform movement tests and adjustments. The doctor will talk you through the process and prepare you for the functionality of the table to set your mind at ease and allow you to fully submit to the process.
Other Techniques
Dr. Alana Way also utilizes the Network Spinal Analysis Technique, a tonal chiropractic technique designed to make sure the spine and the tone of the body is improving. The doctor will discuss applicable techniques with you while going over your care plan and answer any questions or concerns you may have.
It's Normal to Feel Nervous
Dr. Alana Way is not setting out to crack you or break you when you walk into her office. The sound of a POP in your joints isn't the sound of permanent damage, it is simply the sound of gas or pressure from the joint being released.
Think of it as the chiropractor simply opening the lid on the glass jar of juice-the air is released, but the jar is not damaged and neither is the lid, regardless of how loud or soft the sound was. Once you are able to understand what this sound is and why it isn't any reason to be concerned, you actually begin to have a better understanding of what the chiropractor is doing to your body—which is allowing the joint to be moved, or adjusted, which allows the pressure that's been built up to be released. Now the joint can move unrestricted, the juice can flow, and the nervous system and overall tone of the body can relax back into its natural, homeostatic state.
The doctor is also open to your concerns. If you're uncomfortable with a treatment, your care plan can be altered to your specific needs or the doctor can talk you through the process until you feel comfortable enough to proceed.
Learn More About Our Techniques
Learn more about the techniques we recommend for your specific issues. Call today to set up an appointment with Dr. Way and start the process of acquiring your own individualized care plan!
CONTACT US »
---
Chiropractic Care Kingston | (613) 531-3131